Roshambo Code Challenge
Here's the Roshambo coding assignment.
If you want to pass the AWS Certification exams, you need to know a little bit of code. Not a lot, but you do need to know your way around web pages, Java files and modern data exchange formats like YAML and JSON.
Drag from the left to the right to sort the scrambled Rock-Paper-Scissors code.
When completed, copy the Roshambo HTML and JavaScript code into a text editor.
Save your HTML file as roshambo.html in a folder on your desktop named rps.
Open your roshambo.html file in Chrome and view your page in a web browser!
Create a file named Dockerfile (no extension) in the same rps folder as roshambo.html
Run the Docker commands from that folder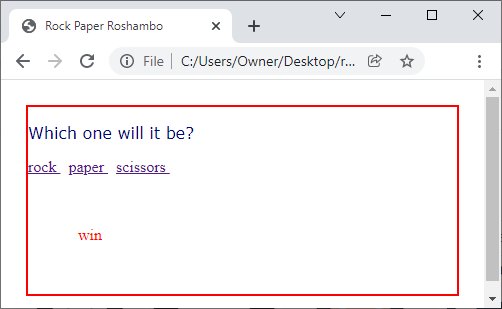 WARNING: The dragging and dropping function doesn't work well on mobile.
Scrambled

<!DOCTYPE html>

.feedback {color: red; margin: 50px;}

<head>

<meta charset="utf-8">

<html>

<style>

<a href="#" onclick="playRoshambo('rock')"> rock </a> &nbsp;

<a href="#" onclick="playRoshambo('scissors')"> scissors </a> &nbsp;

.highlighted {border: 2px red solid}

</head>

p { font-family: verdana; }

<title>Rock Paper Roshambo</title>

<body class="highlighted">

<p>Which one will it be?</p>

</style>

<a href="#" onclick="playRoshambo('paper')"> paper </a> &nbsp;

<div id="results" class="feedback"></div>

body { color:navy; margin: 25px;}

---

} // end rock if

<script>

} // end paper if

</html>

result = "tie"

} // end method

} // end scissors if

if (clientGesture=='paper') {

</body>

if (clientGesture=='scissors') {

document.getElementById('results').innerHTML = result;

result = "win"

</script>

if (clientGesture=='rock') {

playRoshambo = function(clientGesture) {

result = "lose"

---

docker build -t nginxuous .

docker push scrumtuous/nginxrps:v1

docker tag nginxuous scrumtuous/nginxrps:v1

docker run --name engine1 -p 80:80 -d nginx

FROM nginx
COPY roshambo.html /usr/share/nginx/html

docker run --name rps02 -p 99:80 -d nginxuous

http://localhost:88

docker run --name rps01 -p 66:80 -d nginxuous

docker login -u scrumtuous -p password

docker stop engine1

docker run --name engine2 -p 88:80 -d nginx

---

Try This After the Drag and Drop

git clone https://github.com/scrumtuous/numberguesser.git

cd numberguesser

docker build -t tomcatuous .

docker run --name monolith -p 8085:8080 -d tomcatuous

http://localhost:8085/numberguesser/playthegame

---

docker-compose.yml

YAML files are indented with two spaces

version: '3.7'

services:

ng:

image: nginxuous

ports:

- 8082:8080

tc:

image: tomcatuous

ports:

- 82:80

run it with: docker-compose up
Sorted

Declare the document type

Start your html

Put something here

Page encoding

Page title

Put something here

Make all body text navy blue

Change paragraph font family

Put something here

Highlight with a red border

Put something here

End head

Put something here

Prompt the user

rock link

Put something here

anchor tag

Display results

---

start the script

declare the method

client picks rock

it's a tie

end rock if

client picks paper

You're a potato!

Put something here

Put something here

Put something here

Put something here

Dynamically update the HTML

Put something here

Close the script tag

Almost done!

HTML DONE!

---

Login to DockerHub

Run nginx on port Antropov

Run nginx on port Lindros

View nginx in the browser

Contents to go into Dockerfile

Build your own Docker image (dot!)

Run your Docker image like it was Mario Lemieux

Run your Docker image like it was Wayne Gretzky

Tag your image with your Docker username

Push your personal image to your DockerHub account

Stop a docker container